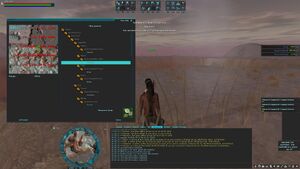 Surveyors search the galaxy for new resources using various survey tools, with the goal of finding high concentration of resources to eventually place harvesters, sell or share the location, and most useful: Sample the resource. Surveyor is the ideal skill to pickup if interested in gathering resources.
A higher survey skill mod increase the resolution (range) of the survey tools, and increases the yield when hand sampling. When training up Surveyor, be sure to radial your survey tools and set to the highest range.
Note: Surveyor trainers share the same locations as Combat Medic trainers did in vanilla SWG.
Surveyor requires 9,300 Surveying experience and a total of 35 skill points to master.
Surveyor Trainers
Tatooine - Mos Eisley 3533 -4752
Tatooine - Mos Entha 1339 3281
Tatooine - Mos Entha 1293 3283
Tatooine - Mos Espa -3142 2109
Talus - Nashal 4505 5169
Talus - Nashal 4389 5364
Rori - Narmle -5154 -2218
Rori - Narmle -5108 -2222
Rori - Restuss 5315 5581
Rori - Restuss 5270 5585
Naboo - Kaadara 5120 6645
Naboo - Kaadara 5080 6655
Naboo - Keren 1962 2637
Naboo - Keren 1960 2592
Naboo - Keren 1927 2730
Naboo - Moenia City 4900 -4919
Naboo - Moenia City 4945 -4921
Naboo - Theed City -4991 4148
Naboo - Theed City -5025 4181
Lok - Nym's Stronghold 597 5144
Corellia - Coronet -118 -4446
Corellia - Coronet -71 -4450
Corellia - Tyrena -4997 -2485
Corellia - Tyrena -4963 -2454