We're Getting Mutants in the MCU - The Loop
Play Sound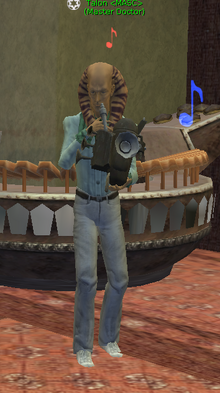 Musicians use various instruments to entertain and inspire, and are often the back bone of a great entertainer troupe. Through their song they are able to heal mind wounds, cure battle fatigue, and buff the Focus & Willpower sub stats.
Masters are able to place Taverns, Cantinas and Theaters in cities.
Musician requires 380,000 Musician experience and a total of 63 skill points to master.
Musician Trainers
Tatooine - Mos Eisley 3392 -4791
Tatooine - Mos Entha 1481 3267
Tatooine - Mos Espa -2980 2059
Tatooine - Mos Espa -2883 2171
Talus - Dearic 568 -3094
Talus - Nashal 4335 5326
Rori - Narmle -5000 -2280
Rori - Restuss 5432 5569
Rori - Restuss 5438 5560
Naboo - Deeja City 4874 1444
Naboo - Keren 1659 2484
Naboo - Moenia City 4740 -4886
Naboo - Theed City -5764 4236
Corellia - Coronet -237 -4203
Corellia - Doaba Guerfel 3442 5413
Corellia - Kor Vella -3463 3059
Corellia - Tyrena -5642 -2598
Corellia - Tyrena -5213 -2545
Corellia - Tyrena -5067 -2296
Corellia - Vreni Island -5407 6261