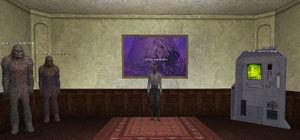 Merchants are the face of the economy, striking up deals and signing contracts. Skilled in running a wide selection of business, Merchants hire and install Vendors to sell their wares. But no business gets anywhere by existing alone, a good entrepreneur will advertise on local and galactic scales, and by reducing operating costs on various capitol they achieve their profits.
With Efficiency IV, Merchants can place the Merchant Tent structure.
Merchant requires 220,000 Merchant experience and a total of 0 skill points to master. Merchant is 1 of the 9 Professions available on EiF.
Merchant Trainers
Tatooine - Bestine -1257 -3527
Tatooine - Mos Eisley 3338 -4717
Tatooine - Mos Entha 1308 3368
Tatooine - Mos Espa -3047 2070
Talus - Dearic 614 -3047
Talus - Dearic 331 -2914
Talus - Nashal 4281 5129
Rori - Narmle -4998 -2412
Rori - Restuss 5389 5672
Rori - Restuss 5397 5613
Naboo - Deeja City 4718 1275
Naboo - Kaadara 5122 6794
Naboo - Keren 1774 2560
Naboo - Keren 1774 2560
Naboo - Moenia City 4817 -4996
Naboo - Theed City -5439 4000
Naboo - Theed City -5129 4255
Corellia - Bela Vistal 6845 -5428
Corellia - Coronet 35 -4428
Corellia - Doaba Guerfel 3105 5274
Corellia - Kor Vella -3675 3064
Corellia - Tyrena -5516 -2691