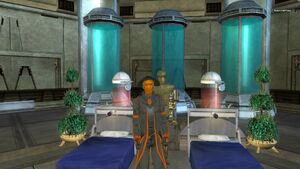 Doctors are the last line of defense for critical patients, using their vast medical knowledge and medicines to save lives both on and off the field of battle. Doctors have the ability to apply Medical Enhancements (Buffs) for the Health and Action stat pools, including their sub stats. They also are able to use the powerful ranged and area stimpacks.
Doctors wishing to get the most out of the profession and craft their own medical supplies are highly recommended to also master the Medic skill.
Doctor requires 255,000 Medical and 50,000 Medicine Crafting experience, and a total of 0 skill points to master. Doctor is 1 of the 9 professions available on EiF.
Doctor Trainers
Tatooine - Anchorhead 131 -5362
Tatooine - Mos Eisley 3522 -4747
Tatooine - Mos Eisley 3526 -4753
Tatooine - Mos Entha 1305 3289
Tatooine - Mos Entha 1300 3295
Tatooine - Mos Entha 1346 3295
Tatooine - Mos Entha 1370 3164
Tatooine - Mos Espa -3162 2122
Tatooine - Mos Espa -3545 2103
Talus - Nashal 4503 5163
Talus - Nashal 4490 5182
Rori - Narmle -5147 -2206
Rori - Narmle -5101 -2208
Rori - Narmle -5104 -2249
Rori - Restuss 5323 5595
Rori - Restuss 5277 5597
Naboo - Kaadara 5021 6787
Naboo - Kaadara 5115 6660
Naboo - Kaadara 5084 6626
Naboo - Keren 1950 2645
Naboo - Keren 1948 2600
Naboo - Moenia City 4887 -4899
Naboo - Theed City -5005 4145
Naboo - Theed City -5038 4175
Lok - Nym's Stronghold 573 5110
Corellia - Coronet -64 -4435
Corellia - Coronet -109 -4434
Corellia - Doaba Guerfel 3276 5407
Corellia - Kor Vella -3809 3140
Corellia - Tyrena -4993 -2500
Corellia - Tyrena -5002 -2459
Corellia - Tyrena -4960 -2468
Corellia - Vreni Island -5309 6405