We're Getting Mutants in the MCU - The Loop
Play Sound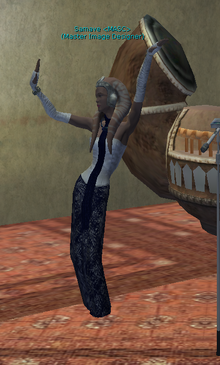 Dancers are masters of visual stimulation and choreography. Found across the galaxy from the seediest of bars to the most respected venues, these individuals have been known to inspire and put minds at ease. Dancers heal are able to heal mind wounds and battle fatigue. They also can buff the Mind stat pool.
Masters are able to place Taverns, Cantinas, and Theaters in cities.
Dancer require 380,000 Dancing experience and a total of 63 skill points to master.
Dancer Trainers
Tatooine - Mos Entha 1480 3277
Talus - Dearic 558 -3094
Talus - Nashal 4338 5339
Rori - Narmle -5010 -2280
Rori - Restuss 5437 5564
Rori - Restuss 5448 5560
Naboo - Deeja City 4873 1455
Naboo - Keren 1668 2486
Naboo - Keren 1632 2575
Naboo - Moenia City 4730 -4872
Corellia - Coronet -227 -4203
Corellia - Doaba Guerfel 3447 5422
Corellia - Kor Vella -3464 3055
Corellia - Tyrena -5642 -2608
Corellia - Tyrena -5228 -2556